Jonathan Waters Federal Lawsuit
Five Facts regarding the OSU Investigation Report:
The OSU Investigation Report is an attack on all current and former band members, not just Jon Waters. It grossly distorts band culture, which is one of precision, discipline, hard work and mutual respect. Otherwise, the band could not possibly put on its highly complex and precise halftime shows.
To the extent that occasional issues arose, Jon Waters was part of the solution, and not the problem. Current and former band members have publicly confirmed that Jon Waters tolerated no inappropriate behavior of any kind.
In his last personnel evaluation, Jon Waters received the highest possible rating, including accolades for causing cultural change within the band.
The OSU Investigation Report has been repudiated by those involved in the investigation. Current and former band members have stated publicly that the Report bears no resemblance to what they said when they were interviewed. Others who were discussed in the Report have stated publicly that it got the facts wrong.
The university's conduct is unconscionable. Jon Waters was summarily fired without any opportunity to defend himself, and without any severance package of any kind.
TBDBITL Alumni Board of Governors
TBDBITL Alumni Club
8/30/2014 Press Release
FOR IMMEDIATE RELEASE
(Columbus, Ohio) From TBDBITL Alumni Club
Yesterday, within an hour and a half after finally agreeing to allow a mere 5 minutes for public comments on their 60 minute agenda, the chair of the OSU Board of Trustees empowered the new OSU PR reps to fire back. While ignoring our public open meeting comments (other than to suggest a continuing study may present useful results), OSU Board of Trustee Chairman Dr. Wadsworth proceeded to authorize a counterattack by press release.
That counterattack suggested inaccurately once again that the Ohio State University Board of Trustees had taken action which in fact never occurred and that it had endorsed the irresponsible actions of President Drake towards the Marching Band and Jon Waters. No action had been taken by this Board of Trustees. To suggest otherwise is to disregard, once again, the Ohio open meetings law.
The Chair of the Board of Trustees simply has the power to preside at meetings not to substitute opinions for Board action.
We know the Members of the Board of Trustees are not happy with the handling of the OSUMB and Jon Waters situations by this administration. That handling has thoughtlessly brought about division and strife. It has brought inappropriate shame to the institution which the Chair ironically calls "our world class marching band."
We know the individual Trustees want a dialogue. We will have that dialogue, supported by our own pending investigation report.
TBDBITL Alumni Club Board of Governors
on behalf of The Ohio State University Marching Band Alumni
Questions: contact@tbdbitl.com
Open Letter to OSU - 8/28/2014
The administration, now running our University, should be encouraged to embrace communication, to solve problems objectively and honestly, and to embrace the Honor and Friendship which has always epitomized Ohio State. It is the University of our parents and children as well. We feel as though we are being "handled" simply by another large corporation. It feels like we are an opponent in a political campaign. We are Family. It does not feel like Ohio State any more.
Below is the Open Letter sent to President Drake and the Board of Trustees by the TBDBITL Alumni Club seeking repudiation of the wrongful Glaros Report and reinstatement of Jonathan Waters.
We are also aware that the university administration has replied to the detailed information provided by Squad Leaders last night with a dismissive response indicating a continuing unwillingness to deal openly and honestly with the defects in the Report and the facts as are now publically known. Executive Sessions, refusals to meet, and avoidance will never solve these issues or heal the festering wounds.
An Open Letter to OSU President Michael Drake and the Board of Trustees...
Our Honor Defend.
How Firm Thy Friendship
Mr. President, our Honor has been attacked and sense of Friendship shaken.
The words of the Buckeye Battle Cry and Carmen Ohio reflect a commitment by decades of students and supporters, their families and friends, to education, to OSU athletic teams and to generations of Ohio State University Marching Band members.
The so-called Glaros Report incredibly and falsely, vilifies the Marching Band, bizarrely claiming the existence of a "sexualized" culture.
We call upon you to repudiate that claim and to immediately disavow this wrongful attack, as we have. You know the Report is wrong.
The Marching Band includes over 240 dedicated students who are living their dream, as did we, in support of The Ohio State University. More than 7000 alumni have worn the Band's uniform, in firm friendship and defense of the honor of the University. Their legacy and reputations have been falsely dishonored.
Words cannot convey our outrage that your new administration has dealt this unimaginable blow to the Marching Band and our great University.
Why would your staff investigate so hastily, and write such preposterous alleged "facts" and "conclusions", which have been proven to be suspect - and often false - over the last 4 weeks?
Why place such innuendos and half-truths in a public report, other than to satisfy a hidden agenda? You know the Report is wrong.
Current and past band members have publicly repudiated the Glaros Report. For example, five female band members whose nicknames were described as sexual and offensive have written to you, emphatically stating they were neither harassed nor "sexualized" by anyone in the band, and that it was the Glaros Report which first made them victims by subjecting them to offensive comments about their character and physical appearance.
The Glaros Report claims that Band Director Jonathan Waters did not do enough to change the culture but ignores that, in his recent performance evaluation he was praised for remarkable success in making swift and positive changes in Band values and traditions.
The Band puts its true culture on display nearly every Saturday during football season. Its precision marching, musical performances and countless volunteer and charitable activities - coupled with jaw-dropping formations created by Jonathan Waters - require incredible teamwork based on mutual respect, caring and discipline. You know the Report is wrong.
President Drake, we respectfully ask you to do the right thing. You are now aware of the grievous errors in the Glaros Report. More surface daily. You have now heard from scores of Band members and alumni about the true Band culture. The limited charge given to Betty Montgomery involves recommendations for best practices for the future. Her report should not be allowed to paper over the wrongfulness of the Glaros Report.
You can end this nightmare by immediately reinstating Jonathan Waters as OSU Marching Band Director. You can repudiate the false Glaros Report and begin the slow process of restoring the magnificent reputation of The Ohio State University Marching Band. Jonathan Waters is uniquely situated to work with your administration, the current Band members and alumni to restore the image and reputation of "The Best Damn Band In The Land."
Our honor defend...
TBDBITL Alumni Club Board of Governors on behalf of The Ohio State University Marching Band Alumni
Press/Membership Updates
OSUMB Squad Leader Statement - 8/26/2014
Aug 26, 2014

FOR IMMEDIATE RELEASE

The student leadership of the 2012 and 2013 Ohio State Marching Band approached TBDBITL Alumni Club and asked for assistance in disseminating the following statement and supporting documents. We are so doing. The Alumni Club did not solicit, encourage, nor contribute in any way to the following statement or supporting documents.

For your convenience, the six supporting documents are available for download, both as PDFs and as plain text file (.txt)

Additional information: Contact@tbdbitl.com
Leadership Statement
We, the 2012 and 2013 student squad leadership of The Ohio State University Marching Band, know that the allegations reported in the Investigative Report produced in July by the Office of University Compliance and Integrity, the Glaros report, which directly led to the firing of OSUMB Director Jonathan Waters, are false and misleading. As a group of squad leaders in the OSUMB, who served under Mr. Waters, we have unique and valuable insight into how Mr. Waters instituted widespread cultural change through the band staff to the students as well as a well-received and effective cultural grassroots movement. Jon Waters is more than a director of halftime shows. He is an advocate for student safety, equality, and respect between all members. The groundswell of support for Jon would never have occurred if this was not the case.
First and foremost, sexual harassment and hazing of any kind was not tolerated by the marching band staff. Such conduct was met with a zero tolerance policy. Obviously, with a faculty to student ratio of nearly 50 to 1, it is nearly impossible for the staff through limited resources to wholly police the organization both on and off marching band time. It was up to the student leadership to act as stewards in enforcing the policies instituted by Jonathan Waters and to oversee their respective sections in addition to enforcing band policy and procedures.
We know that the "investigation" is severely flawed for many reasons, based upon our own personal knowledge and experiences. No one knows the truth better than those who saw it themselves. The lack of a representative sample size coupled with interviews of only a of few witnesses, several of whom have directly and publicly refuted the Report's conclusions, undermines the findings and conclusions of the Report itself. Individually and as a collective group we have attached specific examples of cultural changes, sexual harassment training, and hazing training. None of this was considered by the university during their investigation. We have also included specific examples of how sexual harassment, hazing, and improper behavior were handled by the marching band staff under the leadership and direction of Jonathan Waters.
The culture of The Ohio State University Marching Band is one of determination, respect, community and volunteerism. The evidence of this positive culture is revealed in the experiences and first hand accounts of current and former band members. Our goal is to provide detailed evidence of these cultural policies ignored in the Report which directly led to the University Administration's uninformed reaction and dismissal of Mr. Waters. We ask that the University issue public apologies to the current band, its alumni, and Mr. Waters and immediately reinstate him as the Director of The Ohio State University Marching Band. We hereby submit ourselves to be interviewed by the task force and have relevant information pertaining to this investigation. Please review the attached documents. We believe the truth is paramount.
OSUMB Squad Leaders 2012-2013 [HSL = Head Squad Leadeer; ASL = Assistant]
Tyler Provo: ASL, I-Row 2012
Ben Hyun: ASL, A-Row 2012
Zachary G. Naughton: ASL, K-Row 2012, HSL K-Row 2013-2014
Jacob Evans: ASL, T-Row 2012
Jocelyn C. Smallwood: ASL L-Row 2012, HSL L-Row 2013
Chris Wiet: HSL, E-Row 2011-2012
Mike Johnson: HSL, L-Row 2012
Allen Sun: HSL, Q-Row 2012
David Lee: ASL, HSL B-Row 2010-2012
Andy Hall: ASL, F-Row 2012
Joshua C. Clasen, HSL, T-Row 2012-2013
Alexander Jones: HSL, S-Row 2012-2013
Nickolas S. Ater: HSL, K-Row 2012
Jaclyn Schilling: ASL, HSL, E-Row 2011-2013
Joseph Plattenburg: ASL, X-Row 2013
Matt Engle: ASL, E-Row 2013
Ross Runyan: HSL, X-Row 2012-2013
Davidson Sacolick: SL M-Row 2012-2013
George Farris: HSL, C-Row 2012-2013
Phil Kirkendall: HSL, X-Row 2012
Evan Greene: ASL, A-row 2011, HSL A-row 2012
John Joyce: HSL, R-Row 2012-14
Kelton Rieske: ASL, R-Row 2012-14
Tyler Russell: ASL, HSL H-Row 2010-2012
Jarrod Maynard: HSL, I-Row 2012
Tyler Johnson ASL, F-Row 2013
Austin Willman: HSL, I-Row 2013
Brett Samsen: ASL, J-Row 2012
Tyler York: HSL, M-Row 2012
Andrew Giljahn: ASL, C-Row 2013
Supporting Documents:
Personal and Collective Evidence
PDF (74 kB) PersonalandCollectiveEvidence.pdf
Text (29 kB) PersonalandCollectiveEvidence.txt
Policies and Procedures, 2012 Season
PDF (750 kB) PoliciesandProcedures2012.pdf
Text ( 59 kB) PoliciesandProcedures2012.txt
Squad Leader Responsibilities, 2012 Season
PDF ( 26 kB) SquadLeaderResponsibilities2012.pdf
Text ( 2 kB) SquadLeaderResponsibilities2012.txt
Squad Leader Retreat Itinerary, 2012 Season
PDF ( 22 kB) SquadLeaderRetreatItinerary2012.pdf
Text ( 2 kB) SquadLeaderRetreatItinerary2012.txt
Squad Leader Retreat Itinreary, 2013 Season
PDF ( 19 kB) SquadLeaderRetreatItinreary2013.pdf
Text ( 1 kB) SquadLeaderRetreatItinreary2013.txt
Trip Policy 2012 Season vs. 2013 Season
PDF (4.4 mB) TripPolicy2012vs2013.pdf
Text ( 22 kB) TripPolicy2012vs2013.txt
TBDBITL Alumni Club Press Release
August 6 Press Conference Document (PDF format)
Message from TBDBITL Alumni Board of Governors (8/8/2014)
Dear TBDBITL Alumni,
Tryouts for The Ohio State University Marching Band 2014 are here. Thursday night, returning members and candidates finished their last summer session of 2014. Hundreds of TBDBITL Alumni, friends, and family gathered on the hill to show their support for those getting ready to tryout for this year's OSUMB. The TBDBITL family supports the OSUMB and #westandwithjonwaters!
At the end of the evening, band alums were invited to join in the singing of Carmen Ohio: https://www.youtube.com/watch?v=am7d361hHfg
Ways you can help support Jon:
Info - http://www.westandwithjonwaters.com/
Legal fund - http://www.marchingforwaterslegalfund.com/
General fund - http://www.gofundme.com/c59v9c
Petition - http://www.change.org/petitions/osu-board-of-trustees-reinstate-jon-waters-as-director-of-marching-athletic-bands
Please send thoughts, comments, or suggestions to: ideas@tbdbitl.com
The Executive Committee and the Board of Governors of the TBDBITL Alumni Club has and will continue to meet and discuss all options moving forward.
TBDBITL Alumni Board of Governors
TBDBITL Alumni Club
75th Anniversary SHIRT - Script Ohio
We have a number of these shirts available, $12.00 each
Click Here to download the order form.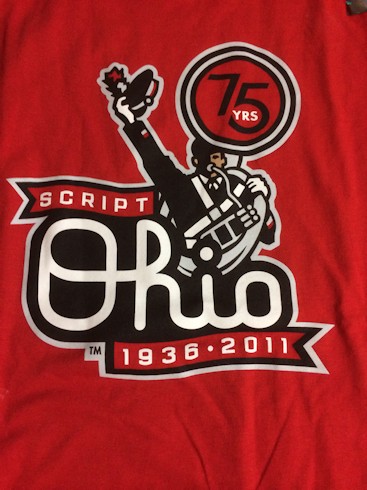 75th Anniversary Script Ohio Panoramic Photo
"Celebrating 75 Years" panoramic photograph available in unframed, framed, or deluxe framed editions and you may choose the exclusive signed editions by Dr. Jon Woods and/or Dr. Paul Droste, and/or Jon Waters. The photograph was taken of the Inaugural performance of the OSUMB with alumni in four full size Script Ohio formations on 9/3/11. Proceeds from the sale to benefit the TBDBITL Scholarship Fund.
Click Here to download the order form. The line items for the photographs are on page 2.
Click on the images below to view full-size: